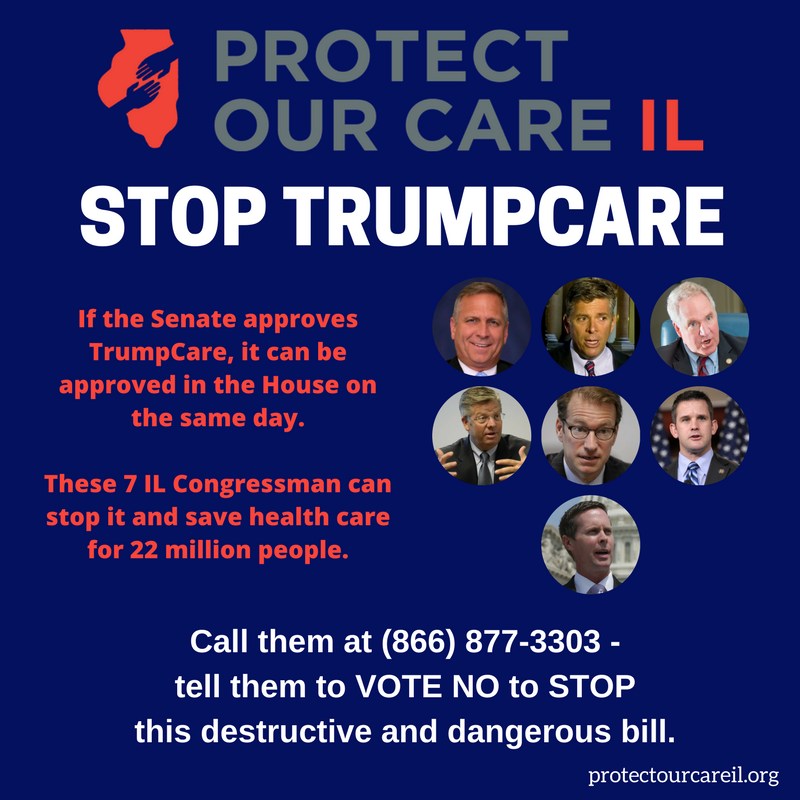 You have probably heard that the Senate has delayed voting on their version of TrumpCare until after the July 4th recess, because they did not have the votes to pass it as written. Do not be fooled that the bill is dead. We saw this in the House: any re-write has only made the bill worse, not better, because there is simply no way to fix this bill!
Now more than ever, we need to stand up and be heard! We must demand that repealing the ACA and cutting Medicaid is taken off the table once and for all.
What can you do this week and next? 
Your calls make a difference!  In IL, we know our Senators are working hard to fight against this bill. However, if the bill passes the Senate it could be voted on in the House on the same day! Calling your member of congress is crucial to making sure TrumpCare never becomes law! Call the Protect Our Care Illinois Hotline NOW (866) 877-3303 to be connected to your U.S. Representative.
ALL WEEK: 
Sign the petition asking Gov. Bruce Rauner to stand up for the health care of Illinois families who stand to lose coverage under the Senate repeal bill.
Today, June 28:
Show up in Chicago at 12 p.m. today for an Emergency Rally. We will hug the Thompson center with a human chain as activists in DC do the same at the Capitol!
Are you in Rockford? If so, join Rockford area residents for a sit-in and human chain around Rep. Kinzinger's office.
Thursday, June 29:
This fight is far from over! Saving health care for millions cannot happen without you!